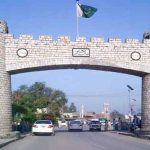 LANDIKOTAL: Transporters and residents on Sunday continued protest demonstration in Takkya area of Landikotal subdivision against illegal tax collection on a toll plaza established in Jamrud subdivision about three months ago.
The protesters were holding placards inscribed with slogans against tax collection on the toll plaza in Kata Koshta area on Peshawar-Torkham.
They blocked the Pak-Afghan road by placing stones on it.
Shakir Afridi, who led the protest, said that National Highway Authority (NHA) violated the decision of the government as the Khyber Pakhtunkhwa cabinet had approved five-year amnesty for tribal district after their merger into KP.
The protesters were of the view that they would not stop their protest against the tax collection on the toll plaza and urged the Pakistan Tehreek-e-Insaf government to take notice of the issue.
When contacted, the toll plaza's operations manager Sarfaraz said that the NHA and the Khyber district administration had started collecting Rs200 tax from each Afghan transit vehicle after securing order from the court.
The protesters opened the road after the district administration assured them to solve the issue.