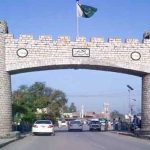 JAMRUD: The tribal elders of Rajgal area of Khyber tribal district have announced to boycott the visit of Prime Minister Imran Khan to Jamrud on 5 April in protest against non-fulfilment of their demands.
Announcement in regard was made at a grand Jirga of Kokikhel tribe near the railway station on Thursday. The 120-member committee of the tribal elders announced boycott of the prime minister's visit to Jamrud where he is expected to address a massive public gathering and meet the tribal elders.
The Jirga elders Malik Nasir Ahmed, Malik Faizullah Jan, Malik Israr, Malik Salahuddin, Malik Yousaf, Malik Haji Ahmed Shah and other said the people of Kokikhel tribe left their area after militancy and military operations and lived the life of displacement for the last 10 years, but they were not compensated by the government. They said they are living a miserable life in Jamrud and their houses, fields and properties have been destroyed. They demanded the government to ensure honourable repatriation of the displaced persons of Kokikhel tribe and compensate them for their damages.
The tribal elders said the affectees of Kokikhel tribe must be compensated on the pattern of the affectees of Waziristan and Bajaur. They said they have offered many sacrifices for peace in the region and now they deserve reward for their sacrifices.