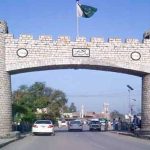 PESHAWAR: Ajmal Wazir, adviser to the Khyber Pakhtunkhwa chief minister, visited Miran Shah on Sunday and formed a nine-member committee (jirga) of tribal elders from North Waziristan to diffuse the tension in the area after Kharqamar check post attack last week.
The members of the tribal elders jirga included chief of Waziristan Malik Nasullah, chief of Dawar Malik Khanzeb, Malik Shah Nawaz Madakhel, Malik Khan Marjan, Malik Habib Ullah Darpakhel, Malik Jan Faraz, Malik Mir Qadir Khan, Malik Ghulam Khan and Pir Aqil Zaman Tapi.
The jirga members has decided to consult all parties for a peaceful solution to the Kharqamar incident. Adviser to the KP chief minister Ajmal Wazir has summoned the meeting of Jirga in Peshawar today (Monday).