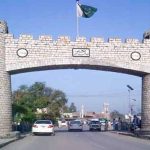 PESHAWAR: Inspector General Frontier Corps Major General Rahat Nasim says the problems faced by people of erstwhile FATA will be solved on priority basis.
Addressing a tribal Jirga in Tirah area of Khyber district today (Saturday), he said health, clean drinking water and sports facilities will be provided to the people of the area at their doorstep.
The local elders apprised the Inspector General of their problems, who assured his full cooperation for solution of their problems.