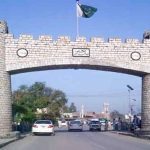 RAWALPINDI: An election tribunal on Monday reserved its verdict on an appeal challenging the candidature of former premier Shahid Khaqan Abbasi for NA-57 constituency Murree.
At the outset of the hearing, Justice Rehman who was conducting the hearing asked the appellant for evidence to prove that Abbasi should be disqualified.
"The premise that his [Abbasi's] thumb impression is above or below the identity card is not a valid argument," the justice noted. "How were the nomination papers tampered?"
Abbasi's lawyer informed the tribunal that his client had declared all of his assets in the documents submitted to the Election Commission of Pakistan.
"Declared assets in both of my client's nomination papers are the same," he said, adding that Abbasi had listed his shares in an airline in both documents.
The tribunal then reserved its verdict, which will be announced on June 27.