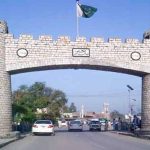 SINGAPORE: United States President Donald Trump and North Korean leader Kim Jong-un signed an agreement at a ceremony after their meeting at Singapore on Tuesday.
Trump described the document very important, pretty and comprehensive. He said both Kim and he were honoured to sign. The US President said he has developed a very special bond with Kim.
Kim called the joint statement as historic and that the world will see an important change.
Talking to newsmen after signing the agreement, President Trump said Kim is a "talented man" who "loves his country very much". He said we will meet many times.