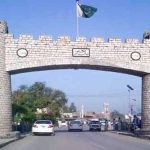 ISLAMABAD: Pakistan Tehreek-e-Insaf (PTI) Chairman Imran Khan has criticized US President Donald Trump for his executive order to ban entry of the citizens of seven Muslim countries in the United States.
In his message on twitter here Saturday, Imran Khan termed US President's new policies as 'racist and anti-Muslim".
Imran also condemned new US sanctions on Iran, saying that "Trump's racist and anti-Muslim policies and his sanctions on Iran are not only counterproductive for USA but a threat to peace particularly in our region."
US President Donald Trump, through an executive order, has slapped ban on the entry of citizens of seven Muslim countries including Iran, Iraq, Libya, Somalia, Sudan, Syria and Yemen.
The United States also slapped fresh sanctions on Iran Friday to punish Tehran for recent ballistic missile tests and its support for Yemen´s Houthi rebels.
The first sanctions against Iran by the Trump administration targeted companies and individuals in Iran and China identified by the United States as supporting Tehran´s ballistic missile program and the Revolutionary Guards military force.