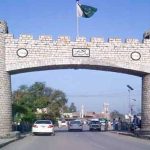 KARACHI: Federal Minister of Maritime Affairs Ali Haider Zaidi has said Prime Minister's visit to the United States (US) exposed Indian propaganda.
Talking to media in Karachi, Zaidi PM Khan was accorded warm welcome in the US, which has made history.
He said that US President Donald Trump's offer of mediation on Kashmir has exposed Modi government. "India is not interested in finding a solution of Kashmir dispute."
He said that India does not know what to say on Trump's mediation offer.
The minister cited that Prime Minister Imran Khan during his meeting with President Trump presented Pakistan stance on Kashmir issue in a befitting manner.