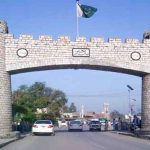 ISLAMABAD: Pakistan's Foreign Minister Khawaja Muhammad Asif has condemned United States President Donald Trump's announcement of recognizing Jerusalem as Israel's capital.
In his tweet, Asif stated that the decision of shifting US embassy would alter the status of Jerusalem.
He added that Trump's decision is affront to Palestinians and the Muslims across the world and is practically burying the two states solution.
"Will add another wound to already bleeding body of Muslim Ummah," he added.
A statement issued by the Prime Minister's office said that Pakistan also unequivocally opposes shifting of the US embassy to Al-Quds Al Sharif.
The statement said that decision represents a serious violation of international law and applicable UN Security Council resolutions.
It further said that Pakistan shares the international outrage and is deeply concerned over the implications of this decision for international peace and security, especially in the Middle East.
Pakistan has also welcomed the announcement by Turkey to convene an Extraordinary Islamic Summit next week to discuss this serious issue.
Pakistan called upon the UN Security Council to take cognizance of this situation and take steps in accordance with the UN Charter.
It also urged the United Sates to revisit its decision as soon as possible in order to avoid the potentially grave repercussions in the region and beyond.