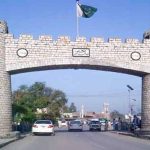 ISLAMABAD: Pakistan Tehrik-e-Insaf (PTI) vice-chairman Shah Mahmood Qureshi has said that the statement of US President Donald Trump is of unusual nature and it has to be taken seriously.
Talking to the media on Thursday, he said that it will have to be seen that how the US sees the role of China in future.
"It has also to be reviewed whether the statement was issued keeping in view Afghanistan or it is a larger design," he maintained.
The PTI leader said that the statement of former prime minister Nawaz Sharif does not seem to be correct under the present circumstances.