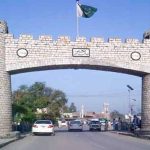 QUETTA: Two more commanders of the Balochistan Liberation Front laid down their arms on Sunday.
They announced their surrender at a news conference in the presence of Balochistan's senior Minister Sanaullah Zehri of Pakistan Muslim League-Nawaz.
Sanaullah Zehri stated that they were affiliated with the Balochistan Liberation Army (BLA), blamed for several attacks on security forces, according to sources.
He stated that the provincial government has announced amnesty for militants who surrender.