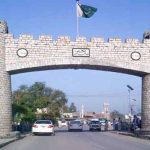 PESHAWAR: Two children were killed when roof of a dilapidated house situated in Gaka Wila area of Badair in Peshawar collapsed due to heavy rain.
According to details, roof of the house of a labourer Sher Rehman in Badbair area of Peshawar collapsed, burying two women and five children under the debris.
Rescue 1122 teams reached the spot and retrieved the trapped persons from the rubble in injured condition and shifted them to hospital where two children died during treatment.
According to rescue sources, the deceased were identified as three-year-old Asim and six-year-old Yaseen while Tehseen, Muniba and Javairia were among the injured.