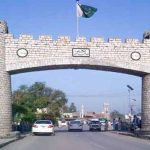 ISLAMABAD: Two civilians were injured in unprovoked Indian firing across the Line of Control (LoC) in the Tandar sector on Saturday afternoon, said a statement released by the Foreign Office (FO).
Foreign Office in a statement deplored the Indian troops targeting of civilians.
The statement added that the international community should "note targeting of civilians by Indian and its actions that endanger regional peace".
Incidents of cross-border firing have become a norm since the last months of 2016 as tensions simmered between Pakistan and India over the Kashmir issue. Exchanges of fire have been reported sporadically since the new year began.