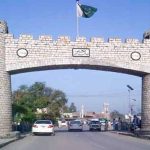 CHAMAN: Two FC personnel among four sustained injuries as bomb hit security forces vehicle on Roghani Road in Chman on Tuesday.
According to details, a bomb blast hit security forces vehicle in Roghani Road area of Chaman. Two FC personnel among four injured in the explosion.
Commandant Chaman Scouts Colonel Usman, Deputy Commissioner Chaman Qaisar Khan and DPO Sajid reached to the scene following the incident.
A search operation was launched after Police and Rangers surrounded the area.
Chaman is a town in the south-western province of Balochistan and is one of the two main crossing points for supplies for American and NATO troops fighting the Taliban insurgency in Afghanistan.
Militants regularly attack security forces and national installations in Balochistan, plagued by an insurgency and growing sectarian killings for more than a decade.