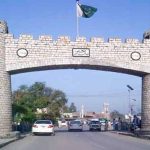 In a heart-wrenching incident that unfolded on Thursday night, two brave constables lost their lives, and a Deputy Superintendent of Police (DSP) sustained injuries following an explosion at the Khyber District police lines, located in close proximity to Peshawar.
According to an official statement, DSP Headquarters Nawaz Khan was injured while Constables Shah Mahmood and Aslam Gul tragically lost their lives on the spot.
The devastating blast occurred as a hand grenade accidentally detonated, reportedly due to mishandling by a police officer.
While authorities swiftly confirmed that the incident was an unfortunate accident, ruling out any terrorist involvement.