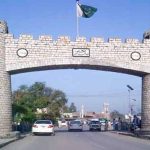 KARACHI: Crackdown against criminal elements under National Action Plan (NAP) continues in Karachi as two gang war accused were killed in exchange of fire with Rangers while four accused were taken into custody by police during operations in different parts of the city on Thursday.
According to detailed, Rangers conducted a targeted operation in Musharraf Colony during which the gang war accused present in the area opened fire and wounded two officials.
A reinforcement was called in after which Rangers personnel returned the fire due to which two gang war accused were killed. Sources said that the killed accused were members of Uzair Baloch group of Lyari gang war.
On the other hand, police arrested a dacoit in injured condition after an encounter in Clifton. Police also apprehended three dacoits during a separate encounter in North Nazimabad and recovered three pistols from them.