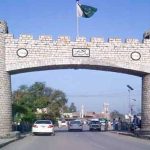 QUETTA: Unidentified armed men opened fire and killed a Hazara man and woman in Quetta's Spini Road area on Sunday evening.
Police said the attackers opened fire and killed a man and woman belonging to Hazara community as they were travelling on a motorcycle in Spini Road area of Quetta.
"This incident is an act of targeted killing," police said.
The Hazara man and woman were going from Hazara Town area to Marriabad area of Quetta when they were targeted.
Both received fatal bullet wounds and died on the spot. Their bodies were shifted to Civil Hospital Quetta, police said. The assailants, who were reportedly riding a motorcyle, sped away from the spot after the attack.
The law enforcement agencies reached the spot as investigation into the incident went underway. There was no immediate claim of responsibility for the attack.
Spini road is considered to be one of the most sensitive areas of Quetta city where people belonging to Hazara community have been frequently targeted in the past.