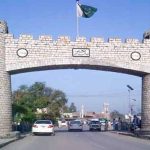 JAMRUD: At least two people sustained injuries in a bomb explosion outside house of a local resident in Akka Khel tehsil of Khyber Agency here on Wednesday.
According to local administration, the blast occurred outside the house of Willayat, a local resident of Akka Khel tehsil.
Hospital sources said that two people were injured in the explosion.
Security forces has cordoned off the area and started search operation to nab the culprits behind the incident.