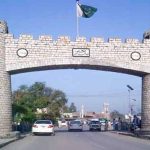 PESHAWAR: Two people sustained injuries due to a gas cylinder blast in the rural area of Naguman here in Peshawar on Monday morning.
According to details, the blast took place in the house of Rahim Gul in Baila Garhai area injuring two persons.
One of the injured people was taken to Lady Reading Hospital (LRH) while the other, stated to be in critical condition, was admitted in Khyber Teaching Hospital (KTH).
The blast damaged the house partially while a report has also been lodged in Daudzai Police Station.