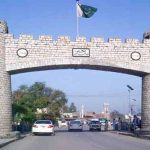 KARACHI: Two inmates Zahid Sagheer and Naseer alias Abid imprisoned in Central Jail Karachi have died mysteriously, said a statement issued by the police.
The police said that both the inmates were taken to a court yesterday (Wednesday) adding that their post martem would be conducted in the presence of a magistrate.
The statement said that Naseer fell sick suddenly while he was being taken to court and was shifted to Civil Hospital where he breathed his last.
Meanwhile, the dead body of the other inmate Zahid was found in a room inside the jail, which was shifted to hospital for further action.
The preliminary reports suggested that both the inmates have died their natural death.