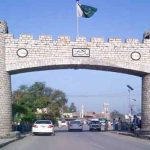 KARACHI: A man and his son were killed and a woman was injured in an early Sunday morning firing incident at a house located in Karachi area of Super Highway.
According to sources, some gunmen broke into a house located in Jamali Goth off Super Highway and opened reckless fire, killing a man and his infant son on the spot and injuring a woman.
The incident took place in the limit of Sohrab Goth police station at this daybreak. When contacted, police personnel said they are unaware of any such incident.
Police said personnel were dispatched towards the firing spot after the incident was reported by the media.
The deceased have been identified as Momin and his son Sabih, police said.