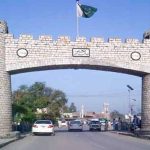 PESHAWAR: Son of a former Member of National Assembly (MNA) and a teacher have been shot dead in separate incidents in North Waziristan Agency (NWA) Saturday night.
According to the political administration, unidentified gunmen shot dead the teacher in his house in Ziraki.
Former MNA Maulana Deendar's son was also killed in a similar incident in Khasukhel area of Mir Ali Tehsil in the agency.
After the target killings, locals took the streets in Mir Ali on Sunday and demanded security for their areas.
The protesters also raised questions over several incidents of targeted killings in their area.