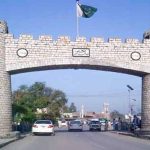 KOHAT: Two workers lost their lives and two others were injured when a coalmine collapsed in Dara Adam Khel on Saturday.
Rescue 1122 officials said labourers were working in the coalmine when it collapsed suddenly. To coalmine workers died in the incident, while two others were injured. The deceased workers were identified as Khalid and Fazle Wahab, both hailing from Shangla.
The injured coalminers were taken to Mian Rashid Shaheed Memorial Hospital for treatment.
Several coalminers have been killed in similar incidents in different parts of the country, mostly in Balochistan. However, proper steps have been taken to stop such tragic incidents or to ensure safety to workers in the coalmines.
According to the Pakistan Central Mines Labour Federation, casualties from accidents among labourers working in coal mines range from 100 to 200 every year.