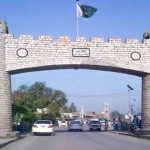 SWAT— Authorities have arrested two people for allegedly setting fire to forest of the Marghuzar Valley of district Swat, burning down several acres of land.
Deputy Commissioner Swat Junaid Khan in a statement said that the suspects had intentionally set fire to the forest in Marghuzar three days ago that threatened nearby settlements.
Although unprecedented heat and negligence are the likely causes behind most of the fires, it is now evident a criminal element cannot be sidelined.
According to Anadolu Agency, 14,000 acres of forest cover have been lost during the last three weeks.
In some cases, "fires were set intentionally by the locals in order to benefit from a centuries-old law that permits them to share the ownership of forests with the government", the publication said.
The law allows them to harvest empty land or use it to graze their livestock.
The massive fires, whether set intentionally or having erupted due to natural causes, have broken out in multiple locations over the past month, some of which continued to rage days later.
Earlier, more than 20 people were already taken into custody following the Khyber Pakhtunkhwa Forest Department, in its report, claimed that KP forests were set on fires deliberately by locals.  The report said that more than 210 forest fires in Khyber Pakhtunkhwa have damaged 14,430 acres, and 55 fires were started by locals themselves.