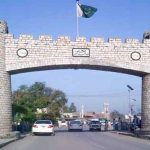 ABBOTTABAD: An anti-terrorism court sentenced to death two Abbottabad men for kidnapping and killing a child in 2016.
Tosif Ahmed and Hassan Ali were arrested on January 1, 2017. A case was registered against them on December 31, 2016 under sections 302 (murder) and 365-A (kidnapping) of the Pakistan Penal Code and sections 11-N (punishment for funds raising) and 7-A (death sentence for killing someone) of the Anti-Terrorism Act, 1997.
A four-year-old was kidnapped from Abbottabad's Tanolian Jangi Syedan. The kidnappers asked for Rs0.5 million in ransom and killed the child after her family failed to pay them the amount.