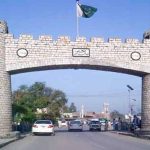 TURBAT: Security forces arrested at least two militants during operation in Turbat today (Thursday).
According to Frontier Corps spokesperson, the operation was carried out in Absar area on a tip-off during which two militants of banned outfit were detained and interrogation from them is underway.
On the other hand, FC also seized two oil tankers carrying 56,000 litre Irani diesel from Labela which was being smuggled to Karachi.
Moreover, the oil tankers have been handed over to custom authorities.