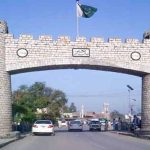 SWABI: At least two militants blew themselves up during an intelligence based operations of the CTD, police and intelligence agencies in Swabi on Monday.
According to details, on a tip off about presence of terrorists in Hund area of Swabi, the CTD, police intelligence agencies personnel raided a house on Monday. A heavy exchange of fire took place between the suspects and the security forces for about eight hours. One suspect surrendered to the CTD while two blew themselves up with hand grenades. The CTD and police recovered weapons and explosives from the hideout.
The surrendered suspect was shifted to unknown location for interrogation.