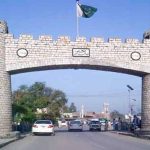 PESHAWAR: Two more polio cases have surfaced from Khyber Pakhtunkhwa after which the toll in the province has increased to 81 and in Pakistan to 115 this year.
The Emergency Operation Centre (EOC) said in a statement on Friday that one polio case has surfaced from Tank where a 15-month-old boy has been infected, while the other case has surfaced from Bannu where a 17-month-old girl has been infected.
The samples of the children were sent to Islamabad for tests where it was confirmed that both the children are infected with polio virus.
The two cases have surfaced just after the conclusion of the five-day vaccination campaign in Pakistan.
Currently, Pakistan and Afghanistan are the only two countries in the world which have not fully eradicated polio.