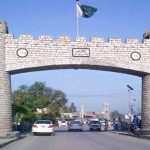 LAKKI MARWAT: Polio has crippled two more children in Lakki Marwat while two cases have also surfaced from Sindh after which the toll in the country this year has mounted to 12.
An official of the National Institute of Health said that in Lakki Marwat, an 18-month-old boy has been infected with poliovirus in Ghundi Hasankhel union council in tehsil Betani, while the other case has surfaced in Kot Kashmir union council in tehsil Serai Naurang where a nine-month-old girl has been infected.
In Sindh, the two polio cases have been reported from Badin and Qambar districts.
Pakistan had controlled poliovirus to a great extent in 2017 and 2018 during which only eight and 12 cases were reported respectively. But the 2019 proved a precarious year for anti-polio efforts as 144 cases were reported and now the 2020 has also started dangerously with 12 cases in the first 40 days.
Last year, 97 cases were reported in Khyber Pakhtunkhwa, including 32 in Lakki Marwat. Even this year, Lakki Marwat is carrying the stigma of being on top in emergence of polio cases.
Various reasons have been pointed out for so many polio cases in Lakki Marwat. The main reason is stated to be the refusal of some parents to administer polio vaccine to their children.