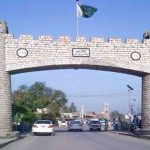 NORTH WAZIRISTAN— Amid the ongoing nationwide vaccination campaign to free the country from the polio, Pakistan on Friday reported two more polio cases, taking the total number of cases to six this year.
Both the infected children were from North Waziristan's Mir Ali town, according to the health officials.
All the six cases were reported in the tribal district North Waziristan of the Khyber Pakhtunkhwa, confirmed health officials.
The latest cases were confirmed from North Waziristan where samples taken from two 18-month-old babies tested positive for the poliovirus.
The district turned out to be a polio hotspot as all the six cases in 2022 have been confirmed from the northwestern part of the country.
Health officials detected Type-1 Wild Poliovirus (WPV1) from the stool specimen of an 18-month-old girl and another 18-month-old boy, both from Mir Ali Tehsil. The two victims had onset of paralysis on May 10 and May 11, respectively.
"This makes a total of six Wild Poliovirus cases confirmed this year in Pakistan.," the statement from the National Emergency Operation Centre for Polio Eradication said. "The new cases have been reported from tehsil Mir Ali, one each from UC2 & UC7, making it the fourth & fifth case from the tehsil."
According to the preliminary report, both cases are zero doses for RI due to "family refusal", while they got some OPV doses during Polio campaigns. A detailed investigation, however, was underway.
This puts the global Wild Polio case count at seventh this year from the endemic countries, the statement added.