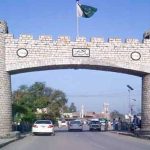 ABBOTTABAD: At least two Pakistanis were among 49 Muslims martyred in terrorist attack on two mosques in New Zealand city of Christchurch on Friday.
According to Dr Khursheed Alam, a resident of Abbottabad, his brother Naeem and nephew Talha embraced martyrdom in terrorist attack on mosques in Christchurch.
According to details, a "right-wing extremist" armed with semi-automatic weapons rampaged through two mosques in the quiet New Zealand city of Christchurch during the Friday prayers, killing 49 worshippers and wounding dozens more.
The attack, thought to be the deadliest against Muslims in the West in modern times, was immediately dubbed terrorism by New Zealand Prime Minister Jacinda Ardern, as she led a shocked nation on one of its "darkest days."
The attacker live-streamed footage of himself going room-to-room, victim to victim, shooting the wounded from close range as they struggled to crawl away.
A 28-year-old Australian-born man has been arrested and charged with murder.
He is set to appear at the Christchurch District Court early Saturday. Two other men remain in custody, although their link to the attack is unknown.
The chief suspect allegedly published a racist "manifesto" on social media before the attack, featuring conspiracy theories about Europeans being displaced, and details of two years of preparation and radicalisation leading up to the shootings.
"It is clear that this can now only be described as a terrorist attack," said Ardern. "From what we know, it does appear to have been well planned."
Two IEDs (improvised explosive devices) were found in a car and neutralised by the military, police said.
Speaking in Sydney, Australian Prime Minister Scott Morrison described the gunman as "an extremist, right-wing, violent terrorist".
His two targets were the Masjid al Noor mosque, where 41 people died, and a second, smaller mosque in the suburb of Linwood, where seven more died. The remaining victim succumbed in hospital.
The dead were said to include women and children. Around 48 people were treated for gunshot wounds at Christchurch Hospital, including young children, with injuries ranging from critical to minor.
The survivors included 17 members of Bangladesh s cricket team, whose game against New Zealand on Saturday has been postponed, and a Palestinian man who fled for his life after seeing someone being shot in the head.