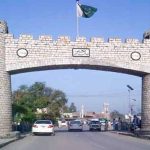 PESHAWAR: Unknown assailants gunned down two people near Ring Road in the metropolitan city on Tuesday evening.
According to media reports, unknown gunmen opened fire on a vehicle near a petrol pump situated on the provincial capital's Ring Road.
The reports added that two other people also sustained wounds in the incident, who were shifted to hospital for medical assistance.
The assailants managed to flee the crime scene after the incident, the reports said adding that police lodged report of the incident and launched investigations.