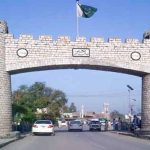 KARACHI: Two policemen were killed when unidentified armed men ambushed the policemen who carried two operatives of Lyari gang, a notorious group of thugs involved in kidnappings for ransom and target killings among other crimes, in a private vehicle. The attackers successfully freed their supposed aides in Baloch Colony here on Friday evening.
Two of the three policemen were killed, while one remained unharmed as the miscreants resorted to gunfire in the attempt.
The two criminals who fled the scene with help of the attackers were reportedly arrested on charges of target killings.
Contingents of Rangers and police reached the crime scene after learning about the untoward incident while the injured cop was shifted to Jinnah Hospital for treatment.
A police spokesman said that police party was shifting two target killers back to their cell after presenting them in an anti-terrorism court.
The police had got 10-day remand of the accused.
The suspects identified as Imtiaz and Malik, were arrested on September 20. They were wanted by police in the murder of Headconstable Yousuf Lodhi.