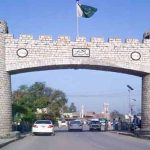 ISLAMABAD: Two policemen were killed after gunmen on motorcycles opened fire on them near No 26 chowrangi Tuesday night.
The deceased officers have been identified as ASI Mohsin Zafar from Chakwal and Sajjad Ahmed from Haripur.
The police have seized a 9mm pistol and 25 rounds from the site. They said that Zafar's uniform was torn and there were nail marks on his face.
The bodies have been shifted to a hospital for postmortem examination.