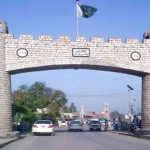 KHAAR: Two polio cases have surfaced in Bajaur district of Khyber Pakhtunkhwa where a five-year old girl and a seven-year old boy have been tested positive for polio.
According to Health Department of Khyber Pakhtunkhwa, both the children have been administered anti-polio drops seven times.
With the emergence of these two cases, the number of polio-affected children rose to three in Bajaur and to eight in overall Pakistan.