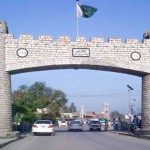 ISLAMABAD: Two more prosecution witnesses on Friday record their statements before the accountability court against former finance minister Ishaq Dar in NAB reference of assets beyond known resources of incone.
Accountability court has conducted hearing of asset beyond income reference against former finance minister Ishaq Dar.
During the hearing headed by Justice Mohammad Bashir, two prosecution witnesses Mohammad Naeem, who works in Excise and Taxation department in Lahore, and banking expert Zafar Iqbal recorded their statements.
The witness said that he received letter from National Accountability Bureau (NAB) on August 15 after which, he appeared before Lahore bureau on August 22.
In previous hearing, the court had unfrozen the accounts of former finance minister Ishaq Dar's Hajvery Foundation and Trust. Dar's counsel told the court that many philanthropic bodies work under Hajvery Foundation which gives five to six crore rupees for dialysis to different hospitals.
Hajvery Trust comes under Hajvery Foundation where 93 children are being taken care of, told the lawyer. He said the accounts of both the foundation and the trust have been suspended after the cases, and requested the court to restore them.
The court had reserved the decision regarding the case, and announced it after a while. Further proceedings have been adjourned till January 31.
Earlier in December, the anti-corruption court declared Ishaq Dar, currently seeking medical treatment in London, an "absconder" after he repeatedly failed to appear before it in a graft case linking to the Panama Papers scandal.
Dar, 67, was indicted in October in a graft case in which he is accused of making assets that were "disproportionate to his known sources of income".
The case was filed against him by the National Accountability Bureau (NAB) in the light of the Supreme Court order of July 28 that disqualified Nawaz Sharif as prime minister in the Panama Papers scandal.
In its case against Dar, the NAB has alleged that the accused has acquired assets and pecuniary interests/resources in his own name and/or in the name of his dependants of an approximate amount of Rs 831.678 million.
Dar is in London since October and has been seeking treatment of an undefined heart complication at a Harley Street hospital.