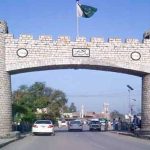 South Waziristan— At least soldiers have been killed in latest terrorist attack on security forces in the Sararogha area of South Waziristan District, Pakistan Army's media wing, Inter-Services Public Relations (ISPR) said Tuesday evening.
According to ISPR, terrorists opened fire on the security forces in the Sararogha area of the tribal district. The troops promptly responded to the terrorist attack but during the "intense exchange of fire", two soldiers were martyred while fighting gallantly, the ISPR added.
The martyred soldiers were identified as 26-year-old Lance Naik Umar Ali Khan, a resident of Bannu, and 23-year-old Sepoy Muhammad Sirajud Din, a resident of Dera Ismail Khan.
"The area clearance is underway to eliminate any terrorists found in the area," the ISPR stated.
"Pakistan Army is determined to eliminate the menace of terrorism and such sacrifices of our brave soldiers further strengthen our resolve," it said.
It is pertinent to mention here that, on April 23, at least three Pakistan Army soldiers were killed in a terrorists attack inside from Afghanistan in Dewagar area of North Waziristan.
Last week, seven soldiers embraced martyrdom in a terrorists attack on a military convoy near the Pakistan and Afghanistan border in Isham are of North Waziristan.
On March 25, four soldiers embraced martyrdom in an attack by terrorists who tried to enter Pakistan by cutting the border fence in Hassan Khel area of North Waziristan.
Five Pakistan Army soldiers were martyred at the border February 6 after they were fired upon by terrorists from the Afghanistan side. The soldiers were positioned at the border in Kurram district.
On April 22, the ISPR had reported that an army officer was martyred and a soldier seriously injured when terrorists opened fire on a security checkpoint in Balochistan.
According to the ISPR, terrorists had attacked a security checkpoint in Kahan on the outskirts of Awaran district in Balochistan.
It had said that security forces had retaliated by thwarting the attack and the fleeing attackers were chased in the nearby mountains where the exchange of fire took place.