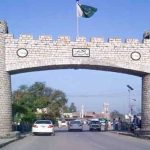 ISLAMABAD: Two suicide jackets weighing around six to eight kilograms were found in G-14 area within the limits of Golra Police Station today (Saturday).
The locals immediately informed police, whereas, bomb disposal squad was called in to neutralize the jackets. Moreover, five hand grenades, two pistols, 106 rounds, and ball bearings were also recovered from the spot.
Police have launched investigation to trace the culprits.
Security situation in the country has drastically improved after the launch of Operation Radd-ul-Fasaad to disarm and eliminate the hidden terrorist sleeper cells across the country on 22 February 2017.
The operation is aimed at eliminating the threat of terrorism, and consolidating the gains of Operation Zarb-e-Azb which was launched in 2014 as a joint military offensive. It is further aimed at ensuring the security of Pakistan's borders. The operation will see active participation from Pakistan Air Force, Pakistan Navy, Pakistan Police and other Civil Armed Forces managed under the Ministry of Interior.
The operation entailed the conduct of Broad Spectrum Security (Counter Terrorism) operations by Rangers in Punjab, continuation of ongoing operations across the country and focus on more effective border security management. Countrywide disarmament and explosive control were also given as additional objectives of the operation.