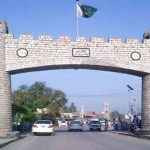 WAH CANTONMENT: Law enforcement agencies kill two suspected terrorists in a search operation conducted in Wah Cantonment on Monday.
According to media reports, a suicide jacket and a large cache of arms were also seized from a house in the area during the raid conducted under the ongoing Operation Radd-ul-Fasaad.
Reports suggested that the accused opened fire on the police but the retaliatory firing of security forces killed the terror suspect Sift Allah and Muhammad Abbas.
Investigations of the deceased individuals' ties with a terrorist outfit are underway, the police said.