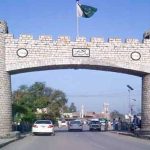 LAHORE: The Counter Terrorism Department (CTD) foiled a major terror bid and killed two suspected terrorists of a banned outfit near the Saggian Bridge on Sunday.
According to media reports, the CTD received reports about four members of a banned terrorist organisation entering Lahore and planning to attack sensitive installations.
Four motorcyclists opened fire on the CTD personnel when they were stopped late at night near Saggian Bridge. The retaliatory firing by security forces killed two terrorists, however, two of their accomplices managed to escape, the CTD said.
Explosives, detonators, primacords, Kalashnikov, pistol, and other arms were seized from the possession of the slain suspects.
"A search operation is under way to find the terrorists who fled," a CTD spokesperson said.