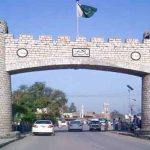 SARGODHA: At least two suicide bombers were killed while preparing suicide jackets which exploded here on Saturday.
According to reports, the bombers were preparing suicide jacket in a car at Khayam Cinema Chowk, on University road, when the jacket exploded, killing two terrorists on the spot. According to police blast occurred in a vehicle LEC 9473.
The police rushed to the blast site and cordoned off the area. The police also took one suspect during search operation.