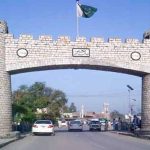 WASHINGTON: The United States of America has welcomed the opening of the Kartarpur Corridor, while pointing out that it sees the initiative as "a positive example" for the neighbouring countries working together for mutual benefit.
Prime Minister Imran Khan on Saturday formally inaugurated the historic corridor to facilitate visa-free entry of Indian Sikh pilgrims to one of Sikhism's holiest shrines in Pakistani town of Narowal.
The U.S. State Department Spokesperson Morgan Ortagus stated, in a video posted on her official twitter handle, that the U.S. "welcomes the opening of a new border crossing between India and Pakistan, the Kartarpur Corridor."
"The newly opened corridor is a step towards promoting greater religious freedom," she said.