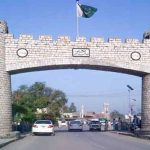 LONDON: A judge at the Hammersmith Magistrates Court has ordered investigators at the Scotland Yard to serve evidence in the cash forfeiture case – linked to the Muttahida Qaumi Movement money laundering case – by no later than October 5.
The parties – MQM founder Altaf Hussain, Sarfaraz Merchant, Tariq Mir, Iftikhar Quraishi, and Sarfraz Ahmed – are now bound to serve their defence in the case by Oct 26 to prove that the cash at their properties was legitimate and not ill-gotten money.
If parties fail to show the money trail of how this amount was obtained, it will be forfeited to British authorities until the conclusion of the main money-laundering case, which is a separate police investigation running in conjunction with this case.
The judge asked the police not to delay submitting the evidence by the 5th of October and make every arrangement to ensure that the court deadline is met.
Scotland Yard's barrister, officer-in-charge of the MQM-linked cases DC Mathews, and police officer in-charge of the financial fraud unit, attended the court.
The police barrister said that disclosing evidence to the accused could compromise the police investigation but he also said that the investigation was nearing its conclusion and it would be possible for the police to meet this deadline.
The Crown Prosecution Service lawyer indicated that a decision – whether to charge or not – will be made within two weeks because the evidence that has to be served on or before 5th of October shall not be compromised.
Sarfraz Merchant's lawyer stressed before the court that the police has used delaying tactics and should have presented evidence to the parties at least three months ago.
This case about the seized money was taken to the court by the police for permanent forfeiture but the court rejected the plea of the police and asked the police to serve evidence on the accused. Since then, Sarfraz Merchant has taken a stance that his money is legitimate and that he will contest for his right to have his money back.
None of the MQM leaders have ever attended any of the five hearings. Their lawyer has been present in all hearings.
MQM's lawyer said on Wednesday that it was important her client sees the evidence and the police disclosure before being able to submit a reply in detail.
This case pertains to over half a million pounds recovered from Altaf Hussain's house, MQM's international secretariat, Sarfraz Merchant's flat, Tariq Mir's house, Iftikhar Quraishi's house, and from the vehicle of Sarfraz Ahmed.
The money-laundering case into the MQM started during the investigation of Dr Imran Farooq murder case.
During a raid at the MQM office towards the end of 2012, Scotland Yard found piles of cash hidden in cupboards in the excess of over £200,000. In another raid at the house of Altaf Hussain in June 2014, more than quarter of a million pounds were recovered by the police.