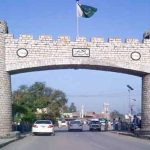 ISLAMABAD: A British firm has announced an investment of $400 million to build a new state-of-the-art cement plant in Khyber Pakhtunkhwa, recognising the clear potential for future growth in Pakistan.
During a meeting between top officials of Asian Precious Minerals (APML) and KPK Chief Minister Pervez Khattak on Saturday, both sides discussed the potential of bilateral trade between the United Kingdom and the province.
The meeting was attended by Nadim Khan, CEO of APML; Peter Frost, Executive Director of APML; Irshad Ali Khokhar, Country Manager of APML; and Jason Mumtaz from the British High Commission.
The chief minister explained his new industrial policy pursuant to which the KPK government has announced several incentives for local and foreign investors who can benefit from a transparent one-window operation to set up an industrial concern within the province without the need for an NOC.
CM Khattak also offered his support and commitment to ensuring that the APML's cement project will be a success. "This project is an important symbol of the greatly improved business environment in KPK. This British investment will help create local jobs and stimulate the local economy. I am glad to see that the UK recognizes the dramatic improvements in the province and I look forward to welcoming more British companies in future," the CM added.
The APML chief executive officer, on the occasion, said: "We are delighted to be investing in a new cement plant in KPK. We are able to do this because of the improved law and order situation, the pro-business stance and good governance policy displayed by the provincial government (of KPK) under the stewardship of Pervez Khattak."
"We look forward to constructing a model, state of the art and environmentally friendly cement plant," Nadim Khan added.
Belinda Lewis, British Trade Director for Pakistan, shared her delight to have been able to support this significant interest in KP by a British company. "APML has recognised the improved security and investment climate in KPK and Pakistan more generally, and recognised the clear potential for future growth in the country," she said while hoping other UK companies will follow the example of APML, and also regard Pakistan as a significant investment opportunity.