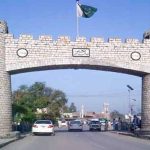 SUKKUR: Leader of the Opposition in National Assembly Syed Khursheed Shah has said that people use Islam for achieving political objectives.
Khursheed Shah was addressing a public meeting in Sukkur on Saturday.
"It is unfortunate that Islam is used for political purposes here," Shah said. He said that the people have to come forward to protect Al-Quds Mosque.
Shah said that people across the world have stopped visiting Pakistan as they consider it to be a dangerous country. He stated that it is difficult to govern Pakistan in the current circumstances.
He said that former prime minister Nawaz Sharif wants to play politics via remote control while sitting outside Pakistan. He said that Nawaz's political style will prove to be deadly for him.
The Opposition Leader stated that today politics means abusing each other and state institutions. He said that United States of America is creating mischief across the world.
Shah said that PPP Chairman Bilawal Bhutto Zardari shares the same vision of the party's founder Zulfikar Ali Bhutto.