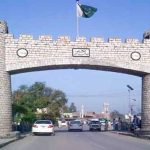 ISLAMABAD: Pakistan has said that ungoverned areas in Afghanistan not only posed threat to stability of Afghanistan but security of the whole region.
Addressing weekly news briefing in Islamabad on Thursday, Foreign Office Spokesperson Dr Muhammad Faisal said Pakistan had expressed its concerns as over forty-three percent area of Afghanistan is out of the control of Afghan Government and attracted terrorist groups from across the world including ISIS.
He said Pakistan expected that the Afghan Government and the Resolute Support Mission would take action to bring these territories under control.
He said Indian arms buildup had also pushed region into arms race fomenting instability in the whole region.
He said Pakistan's armed forces were ready to defend the country's borders in case of any threat.
The Spokesperson said the OIC summit in Istanbul had rejected in strongest terms and declared null and void the decision of US administration regarding Al Quds Al Sharif.
Dr Faisal said we had received response from India regarding visit of Indian spy Kulbhushan Jadhav's mother and wife and they would come to Pakistan and would have a meeting with him on 25th of this month.
He said Pakistan had submitted a comprehensive counter memorial document before the International Court of Justice regarding the Kulbhushan Jadhav case covering all legal aspects.
Regarding the inclusion of other countries in Chinese Belt and Road Initiative of which CPEC is the flagship project, he said the project was for cooperation and connectivity and Pakistan and China were working out modalities in this connection as many countries had expressed their interest in joining the project.
He said Pakistan and United Sates were finding common grounds for enhanced bilateral cooperation and this is a continuous process.