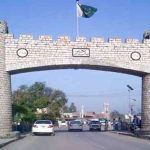 ISLAMABAD: Interior Minister Ahsan Iqbal on Friday said that Pakistan is facing biggest challenge of non-state actors which can only be tackled by unity.
Addressing a ceremony at police academy in Islamabad, Ahsan Iqbal said uninterrupted democracy is imperative for achieving progress and prosperity in the country.
He said armed forces, police and law enforcement agencies played a crucial role in the war against terror to restore stability in the region.
The minister continued modern technology is indispensable to deal with the crimes on scientific basis.