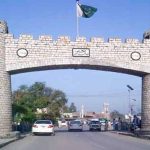 PESHAWAR: The students of University of Peshawar continued their protest for the seventh consecutive day on Monday against increase in the tuition fees.
The protesting students have set up a camp outside the administration block of the university and have been protesting in favor of their demands on the seventh consecutive day.
The protesting students said that they would continue to demonstrate until the 10 per cent hike in tuition fees is withdrawn.
They have also sought scholarships and for the university to provide facilities such as transport and housing to students.
The university administration, meanwhile, has informed students that a meeting will be held on December 7 to discuss the increase in tuition fees.