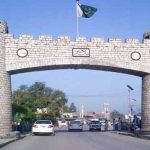 BANNU: The Federal Government has started necessary work on the upgradation of Bannu Airport.
Up-gradation of the airport to international standard was announced by Prime Minister Nawaz Sharif during his visit to Bannu last year.
With the up-gradation, international flights will be operated from Bannu Airport.
People of southern districts of Khyber Pakhtunkhwa and tribal areas have lauded this decision of the present government.