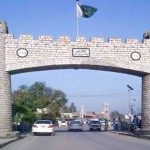 RAWALPINDI: US ambassador David Hale called on Chief of Army Staff General Raheel sharif in rawalpindi today(Friday).
The ambassador appreciated the gains of Pakistan Army in war against terrorism under the valiant command of General Raheel sharif.
Yesterday, Prime Minister Nawaz Sharif eulogized the services of outgoing Army Chief General Raheel Sharif for defence of the country.
He was addressing the farewell ceremony hosted by him in the honor of Gen. Raheel Sharif in Islamabad last night.